Name
Current Alias(es):
Gwisin
General Information
Identity
Secret
Affiliations:
Syndicate[1]
Occupation:
Spy
Characteristics Information
Sex
Female
Race
Human (Undead)[2]
Alignment
Neutral
Status:
Alive
Real World Information
Universe
Prime Earth
First Appearance:
Grayson #16
Gwisin is one of the mysterious members of the Syndicate and is known to be one of the best spies in the world.[1]
A Ghost in the Tomb
Edit
With Matron of Spyral enlisting the aid of the Syndicate to bring down Agent 1 and Agent 37, she is present and accepts to aid Matron in taking down the two rogue Spyral agents.[1]
Spiral's End
Edit
Gwisin is later at a undisclosed Syndicate location as she fights a robot for practice, beheading it with her barehands.[3] As the Syndicate launches an assault on Spyral, attempting to sneak up on Helena though his hit by one of her bolts. She is kicked from behind by Tiger as he and Agent 37 save Matron, engaging with both Spyral agents. When outnumbered, Dick calls in Midnighter to handle all of them, resulting in their defeat.[2]

Powers and Abilities
Edit
Abilities
Edit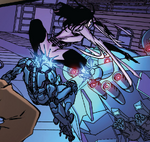 She possess incredible agility, enough to seemingly dodge machine gun fire from a robot with ease. She also seems to possess close combat capabilities, being able to easily destroy the same robot with her barehands[3] as well as skilled enough to engage both Tiger and Agent 37 in hand-to-hand combat.[2] With her position within the Syndicate, she is known to be one of the best spies in the world.[1]

Matron's comment regarding Gwinsin being a "dead woman" suggest she is undead.[2]
References
Edit
↑ 1.0 1.1 1.2 1.3 Grayson #16
↑ 2.0 2.1 2.2 2.3 Grayson #18
Ad blocker interference detected!
Wikia is a free-to-use site that makes money from advertising. We have a modified experience for viewers using ad blockers

Wikia is not accessible if you've made further modifications. Remove the custom ad blocker rule(s) and the page will load as expected.